The other night I read my daughter a book that mentioned how lobsters hide under rocks while molting a new shell.
First of all: lobsters molt?! I I'm am showing my ignorance of the crustacean family here but I had no idea. Also, gross.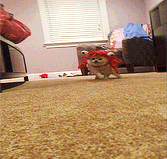 Second: friends, I think I might be a LOBSTER!
Let's review the facts, shall we?
Sarah has been on a long-ass journey of releasing, healing, transmuting, discarding . . .one could say that she has molted more than a few shells.
She kept herself under a rock while molting because nobody wants to see a naked lobster!
She discovered one day that it seemed like there was nothing left to molt. Yep, done molting.
She realized that if she was done molting, maybe this meant she could come out from under the rock!
She then cried in the parking lot of a Publix grocery store when she realized that it is VERY SCARY TO SCURRY OUT FROM UNDER YOUR ROCK WITH A STILL-SOMEWHAT-SQUISHY SHELL. (Long story. Everything is ok. Sometimes you just gotta cry it out on the grocery run.)
I was going to draw a picture of myself as a lobster because everyone loves a visual, but I realized that I don't have time to do that. But I DO have a lovely drawing of a ghost crab. I met him last summer in Cocoa Beach. Isn't he just the cutest?
So, for the purposes of this blog post, I am metaphorically speaking a lobster GHOST CRAB. (Which I googled – and they do molt – so it works.)
HERE I GO! It's a little scary. My shell is still a little squishy. But no more hiding under a rock!! It's time!
P.S. Do you think crabs are cute or totally gross? I vote cute! Cuter than lobsters for sure. By the way, do NOT google "lobsters molting" unless you want nightmares.
Scurry on over and Just Follow the Joy on Facebook | Instagram